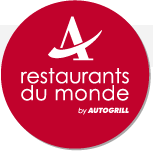 Restaurants du Monde
Open today
From 8:00 AM to 6:00 PM

01 55 35 12 60
RESTAURANTS DU MONDE at Carrousel du Louvre
RESTAURANTS DU MONDE, enjoy foods from around the world during your break from shopping
RESTAURANTS DU MONDE at Carrousel du Louvre offers delicious fast food from around the world.The different restaurants that make up its food court will take you on a round-the-world journey: the Middle East, Morocco, Asia, Spain, Italy and France. RESTAURANTS DU MONDE offers the best each country has to offer. Take a break between stores at Carrousel du Louvre and select your lunch from a huge choice of dishes.
Diverse dishes from around the globe await you at RESTAURANTS DU MONDE at Carrousel du Louvre
Tagines, moussaka, figs in wine, grilled prawns with Thai sauce, shiitake mushroom noodles, vegetable and coriander stir fries, gazpacho, sun-dried tomato cakes, empanadas, stuffed vegetables, pizzas and antipasti, the list goes on. You will find a huge selection and the opportunity to sample traditional dishes from many countries at the different restaurants on the food court:
BEAUDEVIN: French cuisine
MELTEM: Mediterranean cuisine
MIRA:Spanish cuisine
SALAM: Moroccan cuisine
SOÏ: Asian cuisine
TAZIO: Italian cuisine
To finish off your meal, you can enjoy a selection of coffees from around the world.RESTAURANTS DU MONDE at Carrousel du Louvre serves fast and delicious meals to groups with or without a reservation.
For further information, visit our website: www.restaurantsdumonde.fr
Opening Hours
Monday

· From 8:00 AM to 6:00 PM


Tuesday

· From 8:00 AM to 4:00 PM


Wednesday

· From 8:00 AM to 6:00 PM


Thursday

· From 8:00 AM to 6:00 PM


Friday

· From 8:00 AM to 6:00 PM


Saturday

· From 8:00 AM to 6:00 PM


Sunday

· From 8:00 AM to 6:00 PM